b e a t n i k !
Originally printed in Beat Scene Magazine
by tom christopher 2004, revised 2014

COPYRIGHT 2009 BILL WHIPP
The Beat Generation sneaked up on America. The first notice of the group was given in John Clellon Holmes' novel Go published in 1952. Paperback rights were soon sold and the New York Times Commissioned an article from Holmes titled This is the Beat Generation. This article generated a surprising 400 letters to the paper.
April 1955 saw Jack Kerouac's Jazz of the Beat Generation published in New World Writing. The debut of Howl at the Six Gallery was 13 October 1955 and the published edition was a year later in October 1957. The first edition sold out, but the second was seized by Collector of Customs Chester Mc Phee in March 1957 with the comment: 'The words and the sense of writing is obscene. You wouldn't want your children to come across it.'
Spring of that year saw beat influenced editions of Black Mountain Review and Evergreen Review. Kerouac's On the Road was published in August and Gregory Corso's Gasoline in October. March of 1958 saw publication of Kerouac's The Subterraneans.
Dennis McNalley writes that Beatnikdom began in February 1958 when Playboy published a trio of beat related articles: Cool Swinging in New York, A Frigid Frolic in Frisco and an essay by Herbert Gold. The articles presented an absurdist picture of cool jazz zombies and rich idlers speaking a bizarre slang and serving ground glass to the unsuspecting in hamburgers.
By this time the Beats as a literary movement were being discussed in all of the major print media. San Francisco Chronicle columnist Herb Caen took note of the young bohemians gathering in the city's North Beach area. It's well known that he dubbed the group 'beatniks' by adding the suffix 'nik' to the word beat. He claimed inspiration came from Sputnik, a Russian satellite that was the first to circle the world. What is less well known is that his wife was involved with a North Beach storefront church operated by Pierre Delattre under the auspices of the liberal Church of Christ. Caen had a specific dislike for this group of people. The police were also noticing this new phenomenon. By 6 may 1958 there were extra patrols of North Beach.
The San Francisco Chronicle took note with a two part article in their magazine section beginning 15 June 1958 and titled Life and Loves Among the Beatniks, by Allen Brown. Mr Brown's report on the beat scene is a mix of observation and hallucination. He is in some ways careful to distinguish from the real artists and the hangers on and week enders, but in the end creates a string of bohemian cliches: black clad ' existentialists' digging everything, man, while somehow expressing a deep death wish with every gesture. Guys shacking up for weeks with beach chicks, white women keeping black men in stylish suits, homosexuals protesting conformity to the American ideals of home and family. Everybody wild on 'pod' and cheap wine and speaking only the monosyllabic hopped up language of the bop musician.
North Beach is noted for being San Francisco's traditional home of youth in revolt, from the socialist days at the turn of the century and through to the Lost Generation of the 1920s. Beat headquarters is described as being Grant Street between Vallejo and Filbert, and Mr Brown takes us to the Coexistence Bagel Shop, The Place, The Cellar, The Coffee Gallery & Tea Room and City Lights Books. Along the way he talks to a couple of 'colorful characters' who deny any connection to the beat movement, and the majority of the article seems to be the testimony of fictitious beatniks. These beatniks relate with pride that the beat generation has been written about by Norman Podhoretz, Kenneth Rexroth and Herbert Gold, apparently without understanding that these men wrote about the movement with almost uniform negativity. They're surprisingly articulate, making short speeches about the beat movement and then inevitably producing a worn book clipping from their wallets or reciting a passage from Oscar Wilde to validate their opinions.
Early on the day the article was published a saxophonist named Paul Swanson fell to his death from the roof of The Party Pad, a bring your own bottle party loft at 126 Oregon Street, operated by Eric 'Big Daddy' Nord.
Paul Swanson's current girlfriend was Connie Sublette, 20, who was using the last name of her ex common law husband, Al Sublette. Al was a friend of Jack Kerouac, who had planned to use him as a character in a proposed book about jazz, tentatively titled Hold Your Horn High.
Connie had had a rough few months. Her mother had died, she'd broken off her stormy relationship with Al, and now Paul's death hit her hard. On Tuesday she attended his wake, weeping openly and asking God 'Why" through her tears. She left her crucifix with his body and went to the Coexistence Bagel Shop with a friend, James Parry. At the Bagel Shop she met another friend, Paul Boucher, who was there with his wife. Late in the evening Boucher drove her to Al Sublette's apartment at 426 Lyon Street. Al wasn't home, and Connie sat on the front steps, drunk and wailing in sorrow.
Frank Harris, a seaman, high on heroin and whiskey, came by in time to hear the landlord tell her to leave or he'd call the police. Harris told Connie he'd help her to a taxi, but instead they walked a couple of doors down and into an alley between 432 and 436 Lyon. Harris kissed her. Connie was compliant. Her clothes were folded neatly over a fence, but soon she began shouting 'Al! Al!'. Harris, a black man, as was Sublette, was frightened. Connie was making a lot of noise and he had a reasonable fear of being caught with a drunk and nude white woman. He tried to silence her by forcing a handkerchief into her mouth, but Connie struggled and continued shouting. Harris got the handkerchief around her neck and began choking her from behind, eventually killing her. 'I just kept squeezing,' he later said.
Harris ran, dropping a receipt for a new coat in his haste. He returned to his ship, the USS Gaffey, and the next morning, discovering the receipt missing, sat on his bunk and waited to be arrested. He later expressed deep regret over what he'd done, not only to Connie, but the pain he'd caused his mother.
The murder was headlined in the upper left corner of Thursday's front page. Nude Body in Alley, 'Beatnik' Girl Slain by Seaman Looking For Love read the headlines and a photo of Connie was loudly captioned Strangled. The story continued on page 6, and two other stories, one, a statement from Harris, and the other, containing a partial biography of Connie and an interview with Al, stretched across the tops of pages 6 and 7. The Chronicle obviously thought this lurid tale of sex, drugs and murder was important to the respectable citizens of their readership.
Connie had been adopted at age two and had spent time in a home for delinquent girls in her hometown of Portland Oregon. She had a record of arrests for drunkenness going back three years. She was sometimes kicked out of The Place and Bagel Shop, and had recently been asked to leave her room at the Milano Hotel (426 Broadway) after her screaming in the hallways woke other residents at 3 AM, and she then ran naked into the street. Even Al Sublette had had her arrested for ringing his bell at 2:30 AM several months earlier, though upon her death Al described her gently: 'She had stars in her eyes and wanted to go all the time'
When Frank Harris was arraigned for Connie's murder he appeared in court shackled to Neal Cassady who had been re-arrested on a charge of giving two joints to a narcotics officer in exchange for a ride to work.
On 19 June Mayor George Christopher gave his opinion of the beat generation: 'Such a fancy name to glorify every kind of delinquency is too new-fangled for me. I don't care what they call people – Beatniks, eatniks or deadbeats – you can't excuse narcotics addiction or prostitution just because someone calls himself an artist or writer. The orders are out to give no special favors to the beats'. Captain Charles E Borland of the San Francisco Police acknowledged that since 6 May police patrols had been tripled in North Beach and each watch was ordered to make written reports on the activities of beat hangouts such as The Bagel Shop, The Place, The Coffee Gallery & Tea Room, The Paper Doll, The Copper Lantern and The Cellar.
On Saturday, 21 June San Francisco Police raided Eric Nord's Party Pad at 2 AM, arresting 7 people. Three were arrested for drunkenness, 2 minors were arrested for possession of alcohol, a third juvenile was arrested outside and held for possession of 'narcotics', while Nord himself was arrested for operating a public dance without a license, and traffic violations. His bail was set at $130.00. Lieutenant Currie stated that the police had no grounds for closing the club, but added they could 'prohibit dancing'. It was noted in the newspaper that Nord had been ordered by the health department to stop living on the premises and by the buildings owner to vacate the premises by 1 July.
22 June saw the publication of the second installment of Life and Loves Among the Beatniks. Allen Brown quotes freely from Norman Podhoretz and Herbert Gold. He describes the day of a typical beatnik as waking late in the morning in a single room apartment with little or no furniture, not bathing, shaving or brushing their teeth, simply picking random dirty clothes out of a pile of similar dirty clothes and heading out to The Bagel Shop to bum money for coffee. He concludes: 'Most of all the beatnik wants to die. But next to death he loves to talk'. The reader is additionally treated to an anonymous, and probably fictional, beatnik who makes a series of short speeches structured into paragraphs and finally whips out a tattered article on cool jazz by John Clellon Holmes. Reading this fiction half a century later, one is struck by the coincidence that the writer and those he interviews all quote the same sources. Mr Brown then describes weekend bohemians, including homosexuals, who are venturing into North Beach to experience vicariously the freedoms they are denied in every day life, clad in their conformist disguises of black turtleneck sweaters and dungarees, and ends with a truly prophetic statement delivered by another anonymous beatnik, that one day North Beach would one day be transformed into a high rent district with a few bohemian bars for the tourist trade.
On the 23rd Paul Boucher was called to testify before the Grand Jury in Connie Sublet's murder case. Afterward he went to The Coffee Gallery & Tea Room to have a beer with his wife Shiela. He got into an argument with Huble Rhodes, and the two men were then attacked by 3 men, one of whom broke a chair over Rhodes' head before getting away.
On Friday 8 August it was revealed in the Chronicle that schoolgirls were lost in beatnikland. Dyanne Anderson, 16, and Pat Nicolai, 17, who were respectively playing an alley cat and working as a stagehand in Big Daddy Eric Nord's production of 'archy and mehitabel' had disappeared after the previous night's performance at the Marines Memorial Theater. Dyanne had called her mother late Friday, saying she was in Lake Tahoe, but her mother believed he to still be in San Francisco, and reported her missing to the police.
The girls returned Sunday, with their hair dyed and the explanation that they had been to Mill Valley and Big Sur with Nord and Thomas J Lawrence, the technical stage director of the play. Lawrence, who had been reported as missing by his wife was arrested for contributing to the delinquency of a minor.
Dyanne was taken to the Youth Guidance Center on charges of running away and being in danger of leading an immoral life. Earl Rolandson the arresting officer investigated thoroughly and stated 'Dyanne told us she went with the men through a combination of magnetism by that cult and a certain amount of unhappiness at home.
On the 12th of August a group of 100 beatniks visited 'the real world'. Led by poet Bob Kaufman, Lyle Tollefson and Maggie Reiff, and armed with flutes, bongos, bagels and booze the group boarded two rented busses and made way for squaresville. The first stop was the Saint Francis Hotel, where the group disembarked and made their way from the Post Street entrance and down the stairs to the lobby where the other guests were left gasping in shock. From there the group walked down Geary Street to I Magnin, an upscale clothing store, where they commandeered the elegant salon for an impromptu fashion show, displaying the latest in sweaters, sacks, smudged slacks and grimy shirts. From there the group went to the Curran Theatre, where they had planned to stare at theatre goers, but the arrival of 3 police cars, a paddy wagon and 7 cops caused a change in plans and they returned to the Saint Francis, where their busses were waiting.
The next stop was David's Delicatessen, where a planned symbolic exchange of bagels was supposed to occur. However, David Apfelbaum, the proprietor had received some anonymous calls warning him against such an exchange and he tried to hide, stating 'I just want to be left alone.'
The tour seems to have been running late and tours of the Press and Union League Club, the Mark Hopkins and the Fairmont Hotel were canceled, and, escorted by two police cars, the group drove to a ball park on the corner of Army Street and Portero Avenue, where they played a game against the Bank of California 'Nuggets', to prove to the squares that the beats were 100% American. 'We love baseball', said one beatnik.
The last stop on the tour was a walk through the Sheridan Palace Hotel, where Big Daddy Nord, who had been with the group, announced he had an appointment to turn himself into the police for his involvement in Dyanne Hansen's runaway case. The beats' busses followed Nord's Oldsmobile, with the crowd chanting out the letters of his name in a slow funeral dirge as they passed the Hall of Justice.
Back at The Place, Kauffman led a discussion titled Things We Have Seen in the Bourgeois Wasteland.
During his booking, Nord handed out a statement saying that his interest in the girls was only fatherly, and Assistant District Attorney John Rudden agreed that Nord had encouraged the girls to call home, that there was no indication that any sex was involved and that the girls had drunk nothing more than a small glass of wine during the four day trip. Thomas J Lawrence was booked at the same time and both men were freed on $1000 bail.
On August 16 The Chronicle reported that Nord and Lawrence had been ordered to stand trial for contributing to the delinquency of a minor. It is interesting to note that despite the newspaper's veneer of concern for the morals and health of the community, especially for the youth who may become influenced by the beatnik hoards that have drawn national attention to the city, the Chronicle published not only Ms Anderson's name and address (1985 Jefferson Street) and her school (Lowell High) but a lovely portrait of the juvenile girl that shows why she was repeatedly described as buxom and voluptuous.
18 August brought a European appraisal of the beat scene by a young Parisian painter named Poucette, who was unimpressed. 'Now it's all the same,' she said, sadly comparing Paris to San Francisco. 'Now there seems no life, no purpose, no work.' Eric Nord appeared, 6 foot 7 and 300 pounds, and expressed a desire to put the 5 foot tall Poucette in his pocket. 'I would like to dance,' she said. And she did.
On 19 August Nord was arrested again, this time for passing bad checks in Los Angeles, where he had purchased some dresses for 'a chick down there'. He claimed he was owed $2500 for some carpentry work and believed that should have covered the expenses. He was released on another $1000 bail, but unfortunately had to cancel his lunch date with Poucette.
On 29 August it was reported that Nord's Party Pad would close. It was allegedly a nuisance to the Police, the Health Department, the landlord and others. Nord agreed to vacate and was given 10 days to do so.
The Chronicle reported on September 16 and 17 that the Police and the Liquor Control Board had been working together in regards to problems in North Beach. It was announced that no new licenses to serve liquor would be issued, despite the fact that 53 liquor related businesses had gone out of business over the last couple of years.
Nord's trial began on 23 October 1958. The presiding judge in Juvenile Court was Melvin l Cronin, and the jury was composed of eight men and four women. During the trial Nord continued to insist that the trip with the girls was nothing more than innocent fun, which was the girls' claim also, but despite this testimony both Nord and Lawrence were convicted. Sentencing was scheduled for December.
On 21 November Nord filed for bankruptcy. He listed his debts as $11,286.39, including $338.29 to the Bagel Shop, $50.00 back rent for his apartment at 330 Frederick Street, and $343.19 for a combination hi-fi radio – phonograph purchased in 1956. His assets were listed as three chairs, a broken table, $50 worth of clothes, $100 of books, a ' priceless' pre mayan fertility symbol valued at $150 for the court and one dollar cash.
Nord was sentenced on 27 December to the most dire a fate a beatnik could imagine: work. Judge Cronin ordered Nord to get a job and stay away from beatnikland, adding: 'You and your friends in beatnikland emphasize your unusual ways to give an impression that you have talent, ability and stature, when actually a person looking into you finds no talent at all'. Nord was additionally given a $300 fine, three years probation and told to stay away from underage girls, with the promise of one year in jail should he violate these terms. Thomas J Lawrence was given three years probation and a $150 fine.
Judging from news reports things seem to have quieted down in San Francisco after that. The summer of 1958 had been unusually hot and smoggy in the city. It was estimated that 10,0000 new residents a month had moved to the bay area since 1950. America was hoping to send a man to the moon by 1963, but the rockets kept blowing up. Scientists did however manage to invent a powdered whiskey that was said to prevent hangovers and a new drug, LSD – 25 was reported to allow dramatic psychological breakthroughs after only one use. In the American South schools were closed by state order rather than submit to federal mandates of racial integration, and churches and synagogues were being bombed in retaliation. In Mississippi a black man was arrested for having white guests overnight. All parties involved were fined $50 and given 30 days in jail. The cold war was raging and America had been running on a no-nonsense program since it dug itself out of the great depression, and the beats ran counter to this.
Look magazine for 19 August 1958 published a photo essay titled The Bored, The Bearded And The Beat, surveying the North Beach Scene and featuring colorful locals such as Hube 'the Cube' Leslie, Linda Cherney (known as Linda Lovely at the Bagel Shop), Wally Berman, an artist later loosely associated with the Venice scene in southern California, and Big Daddy Nord, who's photo is captioned: A 'Beatnik' says we're all a little Beat.
When Natalie Jackson committed a very public suicide in November 1955 no mention was made of the beat generation, although she was Neal Cassady's lover and Kerouac was in the same house. When Neal Cassady was arrested in June 1958 no beat connection was mentioned, but by late 1958 many crime stories involving juveniles or the young underclass were headlined as being beat.
Dr. Francis Rigney, staff psychiatrist at the Veterans Administration Hospital gave a report to the American Orthopsychiatric Association on April Fools Day, 1959. Dr Rigney had spent more than 100 nights hanging with the beats in various North Beach locations and claimed to have ' analyzed' them. 'They have walked out on society and like any group of sick people they want to be left alone', he stated.
Dr Rigney did not disguise himself during his 'lengthy investigation'. ' I never had to give up my own identity or my dignity,' he said.
The hard core of the beat generation was thought to be about 150 people and Dr Rigney interviewed about a quarter of them. The average stay in the beat generation was estimated to be about two years. Two thirds of those interviewed identified themselves as creative people. Dr Rigney believed the lives of the beat generation were essentially the same as artists in other periods, and noted a wide spectrum of behaviors both good and bad.
However he also noted some generalities. In age the men averaged 30 years and the women 23. Weekend bohemians were generally high school and college aged. Men outnumbered the women by about three to one, and 'In the test data and by observation we see much overtly sexual and/or aggressive material'. Most beats had a couple of years of college. Two had high school diplomas and three had master's degrees. Of 51 members asked about religious preference, three identified themselves as Buddhists, one was Catholic and two Protestant. The others expressed no formal beliefs. In dress, the Ivy League look was as common as the stereotypical black slack and sweater look.
The various well known beat hangouts like the Bagel Shop or the Tea Room were compared to various counterparts in the straight world such as town hall, community restaurant, etc. and Dr Rigney further noted that much socializing went on at private parties, jam sessions, poetry readings, etc. Twenty percent of the hard core was said to have come from the bay area and about 50% from the East Coast, including 10% from New York City. About a third of the group were writers, a quarter were artists, and a sixth were musicians. About two thirds of these had had commercial success with their art, but most also worked at menial jobs, were on a government compensation or had working wives.
Dr Rigney asserted that the beats 'represent the externalized acting out of internal conflicts and needs rather than a conscious and deliberate response or rebellion towards alleged states of affairs in contemporary society.' Three main groups were identified among the men: the character neurotic group, the chronically anxious group, and the passive aesthetic. The women were found to be grossly dissocial or subtly hostile. Dr Rigney concluded that the beats had 'made society the scapegoat for their own neuroticism'.
But when one reads about the beats' neuroticism in the whole context of the city's news it seems less extreme than it is reported. During this time, union leaders and politicians are being investigated for corruption charges, doctors are driving drunk, school teachers are selling pot, cops are going mad and executing their families, and there are sex scandals in city hall and in the churches, yet none of these stories are collected under banner headlines like Murder in Squaresville! Nor are there stories that assume that middle class life is a sad continuum that runs from cocktails to insanity. Yet criticism against the beats is uniform: Connie Sublette's friend James Parry, who works at Fisherman's Wharf, a job that doubtlessly requires early rising and heavy lifting, against beatnik stereotype, is criticized for ' dissecting civilization with the beatniks'.
Discounting the obvious fictions of Life and Loves Among the Beatniks the real beats respond to the world like average people. When Connie Sublette's lover is killed, she cries and leaves a religious symbol with his body (in addition she was wearing a Saint Christopher medal when she died), seeks out her friends and gets drunk. Bob Kauffman and his friends pulled off a great prank that was ten years ahead of its time as a piece of conceptual art. A drug raid reported in 1960 shows the diversity of the area. Of 20 arrests the majority were men with a variety of working class occupations, aged between 19 and 52, both black and white.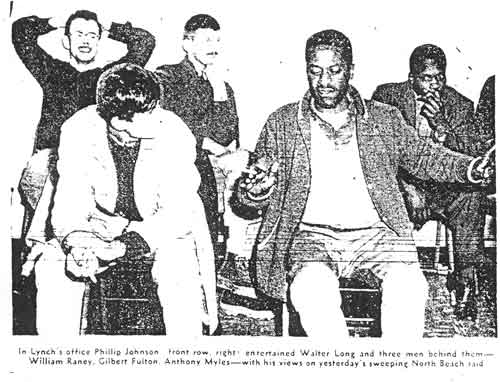 Police surveillance crossed over to harassment regularly, especially in the case of interracial couples and Bob Kauffman in particular was harassed so often he left the city. Kerouac saw the city as a police state. In addition rising, real estate and the development of the area as a tourist spot made North Beach a less attractive spot for bohemian life.
Big Daddy Nord (born Helmuth Pastor in Krafeld, Germany) continued to operate clubs. After the Party Pad closed he opened the Gas House in Venice, California. The community responded with protests to this next eruption of the beat generation and the place was closed in the wake of anti bongo ordinances. Nord returned to San Francisco where he opened the Hungry i (actually the name of his first club, before the Party Pad). By the early 60s he was broke and complaining that being the King of the Beats (a title bestowed by Herb Caen) didn't pay much and he could only offer dollar food stamps to pan handlers. His last job had been dressing as a monk to give Giardelli Square 'atmosphere'. In 1963 he was prevented by judicial order from distributing gifts at the Youth Guidance Center. 1965 he converted a barn in Scotts Valley into a 'disco ' and known as the Barn it became a venue for Ken Kesey and the Pranksters, The Grateful Dead, Janis Joplin, Country Joe, Led Zeppelin and others. By 1970 he was operating a 'cultural center' in the Haight Ashbury area. By 1975 he had settled in Los Gatos where he found a niche playing Santa Claus and supervising the information center at Old Town, the affluent area's tourist attraction. In 1979 when he turned 60 the paper gave him a generally friendly puff piece, portraying him as a rascally old scallywag, who had once been among the movers and shakers of the beat generation, with a photo of him, now at 385 pounds cutting around on a little tricycle with a large basket on the back. During his career as a freelance carpenter he also appeared in a cult 1950s monster movie (along with Lawrence Lipton) called The Hypnotic Eye, and made an art film called Hungry Eye that was shown at erotic film festivals in 1971 and 1972. He died in Los Gatos in 1989.
At the same time the Chronicle was criticizing the beatniks, they were beginning to acknowledge the Beat Generation. Local novelists were compared to Kerouac in newspaper book reviews and City Lights Book Shop was given a positive note as center of the city's renaissance.
In 1971 when Jerry Kamstra's novel The Frisco kid was published there was a group photo taken and the Chronicle took note of the occasion with a story that painted the beatniks in heroic terms. The same paper that portrayed them as bums and celebrated the adventures of cops growing beards to go underground to bust people holding half a matchbox of the narcotic weed marijuana was now telling us that 'these people had a joie de vivre that kindled a light in the eye, enlivened voices, made gestures energetic'. The beatniks were contrasted favorably to the horrid new crop of hippies who had the 'middle distance look that too many bad trips induce', were full of 'languor' and an'aloofness to life '.
North Beach did indeed become a high rent district with a few beat spots for color, but fortunately, City Lights Book Shop remains, it's international reputation speaking for itself, and Vesuvio's is still a great place to stop for a beer. And the present day beatnik refuses to die.
NOTES:
I know some will take issue with my use of the word beat. I am using the words beat and beatnik interchangeably and inclusively to indicate the original NYC group, the San Francisco Renaissance group and the younger bohemians who were referred to as beatniks by the public and as hipsters by the older beats.
The first few paragraphs of this article were adapted from Desolate Angel by Dennis McNally, as is the reference for Bob Kauffman being harassed by San Francisco police, and in general, that text was used to reference dates and facts. Also, see that book's references for a comprehensive list of beat generation references and criticisms in the national media. The reference for Kerouac's vision of San Francisco as a police state is in a letter to Gary Snyder of 19 June 1958, in Volume Two of Kerouac's Selected Letters. The connection between Herb Caen's wife and the beats is from an interview with Pierre Dellattre. Allen Ginsberg told Kim Spurlock of the usage for the word hipster. Look Magazine 19 August 1958. Most material is from the San Francisco Chronicle for the dates given in the text, and additional material is the result of a Google web search for Big Daddy Nord.
COPYRIGHTS: article is copyright tom christopher main illustration is bill whipp copyright 2002 spot illustrations photos and headlines are used for their historic context and no copyright is implied
copyright 2004 tom christopher, revisions 2014